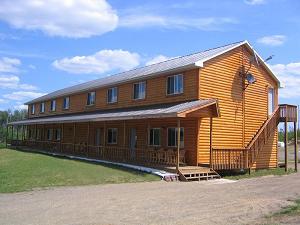 Stay with us in our group lodge retreat, footsteps away from our sand beach. Experience the great outdoors in comfort.
In our lodge, each bedroom has 6 Twin beds and 2 Queen beds and can sleep 8-10 people. You have your own private bath and full shower with both hot and cold running water! We supply all bed linens and towels. Rental of the lodge gives you access to the large living/kitchen that can seat party's of 50! with wireless internet from any room. Experience breathtaking lake views and sunsets right from the comfort of your room!

Pricing & Rates
Prices are as follows:
$150+HST per night per person ($900+HST per night minimum based on 6 people, 2 night minimum)
$125+HST per night per person (7 to 12 people)
$100+HST per night per person (12+ people)
Please note that all prices are based on ages 11 and up.
Children age 10 and under stay FREE!

Check-In / Check-Out
Check-in time is 4:00 pm
Check-out time is 9:00 am

Reservations
To request a reservation, please fill out our online form with the dates you'd like to visit. We will do our best to accommodate you!

Photo Gallery
Please click on an image below for a larger view: