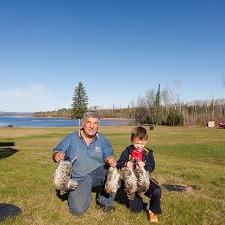 We Are Your Hunting Destination
The Armstrong area of Northwestern Ontario offers a beautiful remote wilderness setting for moose and grouse/partridge hunting. Our locale is popular among North American hunters for the beauty of the terrain and extremely high population of grouse/partridge.
We have thousands of acres of Crown Land and offer excellent ruffed spruce and sharptail hunting, as well as geese and duck hunting in the fair range. Hunt by foot or ATV and enjoy the many amenities available at Kab Lake Lodge.
Stay in our Lodge. We also offer full housekeeping cabins that sleep up to 12. Click here to see our accommodations. With our country store , we can take care of all your needs.
For a true northern getaway, combine your moose/grouse/partridge hunting trip with fishing . Our area lakes are full of Walleye, Northern Pike, Perch, and Lake Trout.
Request Your Reservation at Kab Lake Lodge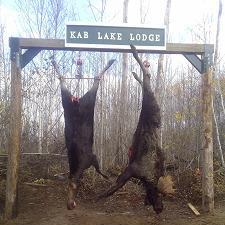 Northern Ontario WMU 15B Hunting Adventures
The Armstrong area of Northwestern Ontario offers a variety of game for the hunter in you. Moose Hunting in wmu 15b can be an exciting adventure for your visit to Kab Lake Lodge.
Hunting Amenities
Kab Lake Lodge provides everything you need for your hunting trip, including:
Lodge Rentals
Cabin Rentals
RV / Tent Rentals Sites
Area Maps
Moose Hanger